Teeth Whitening Products
39 Products Found
Teeth Whitening
Modified on December 4, 2015 by Nick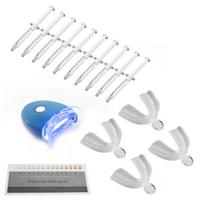 Teething whitening doesn't have to be hard, complicated or expensive. Taking care of your teeth using the right tools to insure that you always have a bright smile. In this article, we have outlined some of the most popular products on the market and let you know from our experience what gives the best results.
Teeth Whitening Kits
­­Whitening kits can be used at your home and generally used once per night until the desired results are attainted. These kits usually include both upper a lower mouth trays, hydrogen peroxide in a syringe, a guide to keep track of your progress and in some instances a Ultra-Violet light to accelerate the process.

The mouth trays included in these kits are generally custom, meaning they were formed to your teeth either professionally by a dentist or by using at home boil and form thermo-trays.
Teeth Whitening Gel
Gel syringes can be purchased directly from your dentist or online by a reputable vendor. The gel you buy can come in different sizes, generally 3ml, 5ml or 10ml and in different concentrates of hydrogen peroxide, 22%, 35% or 44%. After you have had your tray formed, you can purchase refill gel syringes anytime you want to brighten your smile.
Teeth Whitening Trays
Trays can be professionally formed by your dentist or by using thermo-form trays that you can make and mold to your teeth from home. Thermo-form trays can be just as effective as a set of trays you buy from a dentist and far less expensive. These at home trays only take a few minutes to form, all you have to do is boil some water, dip the trays in boiling water for 3-5 seconds and form them to your teeth by simply biting down and allowing the plastic to cool.
Teeth Whitening Strips
Strips can be bought at many major retail outlets and come in different peroxide levels, most commonly 10% for sensitive teeth and up to 35% teeth for those looking for faster results. Whitening strips generally come with an easy peel and apply application technique and should be applied for the amount of time suggested by the manufacturer. The cost of these strips is less than seeing a dentist however is similar to or more than the cost of buying an at home whitening kit. If you are planning on whitening once or twice a year, you may save a bit of money by forming your own trays and purchasing gel refills as needed.
Teeth Whitening Pens
Teeth whitening pens are a great alternative to other forms of whitening. You can use the pen to apply gel directly to the front facials of your teeth and after a few minutes simply brush your teeth clean of any peroxide. This method is the most convenient and may be purchased in varying concentrates including 22%, 35% and 44% peroxide. Teeth whitening pens allow you to whiten just the areas of your teeth that people will see when you smile however during the whitening process you will be without the comfort of using trays.
Teeth Sensitivity
Sensitivity during the whitening process is normal and generally goes away in a few days or less. If you already have sensitive teeth it is recommended use a low dosage of peroxide. The only downside to using a lower dose of peroxide is that the whitening process will take longed. If you experience any pain or burning on your gums it is suggested to stop to whitening process and resume at a later date. To avoid this, be sure to not apply any peroxide to your gums and only to the front facials of your teeth.
Whitening Toothpaste vs Gel
Toothpaste can be effective at removing surface stains however will not whiten the enamel of your teeth. You may use these two methods of whitening in conjunction with each other however peroxide gel has the ability to remove years of discoloration that a toothpaste simply have little to no effect on.
Natural Whitening Remedies
There are a number of ways to whiten your teeth naturally and one of the best ways is to look at your normal oral hygiene. Brushing 2-3 times a day, flossing, reducing coffee and soda intake, not smoking and attending those 6 month checkups to the dentist will keep stains from forming between your teeth or on the front facials.
Whitening Results
Results from whitening with peroxide can appear in as little as one application and expected results can be seen at or around 3-5 days when using high concentrates of peroxide gel. When using lower concentrations it may take several weeks to a month to achieve the results you are looking for.
Conclusion
In conclusion we suggest that you can experience the best results by using at home techniques which include a 22% to 35% peroxide whitening kit, supplementing occasionally with whitening toothpaste, flossing daily, maintaining regular checkups with your dentist, not smoking and finally reducing coffee and/or soda intake. By doing so you will have a bright smile that people will notice, and if you want to impress your dentist and keep your mouth free of plaque, try out a Phillips Sonicare (no this isn't a paid plug to buy their product, it just works). Your hygienist is more than likely to tell you they see improvement without you mentioning anything about your change in tooth brushes.
Related Topics
Neal k. Miller
72 Months Ago
Love to win
Reply
Joni Metcalf
72 Months Ago
Love to have my teeth whitened!
Reply
Rasyied Haji
72 Months Ago
I need it a lot !
Reply
Melissa Green
72 Months Ago
My son wants this for Christmas.
Reply
Ashley
72 Months Ago
I would love to win this!! I desperately need it.
Reply
shantiqua allen
72 Months Ago
Would love to win something
Reply
Paul Albarado
72 Months Ago
my teeths need whiteing I hope I win
Reply
Angel
72 Months Ago
would love it
Reply
Caitlin Cronin
72 Months Ago
Awesome giveaway ☺ Thank you for the opportunity! Merry Christmas
Reply
MARY MCLAIN
71 Months Ago
Drinking coffee and tea everyday has stained my teeth and it would be nice to whiten them.
Reply
Katrina Bell
71 Months Ago
I really hope I win the teeth whitening kit giveaway! When I smile in the mirror, it looks like I brush my teeth every day with butter instead of tooth paste!
Reply
Amanda Titus
69 Months Ago
Looks like an inventive way to brighten your smile.
Reply