ELM327 Accessories
Published on November 19, 2015 by Nick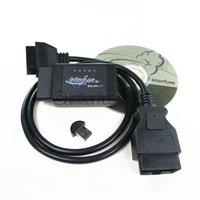 Accessories that can be used in conjunction with ELM327 diagnostic scanners.
USB Bluetooth Adapters can be used to make regular laptops or desktop computers that are not otherwise Bluetooth enabled, compatible to work with Bluetooth scanners.
USB Extension Cables can be used to extend the length of a USB diagnostic scanner. In order to maintain throughput, a cable no longer than 10 ft should be used. However, even a cable at this length with greatly extend your ability to connect your device to a distant desktop or laptop computer.
OBD2 Extension Cables can plugged directly into your vehicle, on the other end, your OBD2 Diagnostic Tool can be connected. This can be useful when frequently connecting diagnostic tools to a vehicle or to extend the length or broadcast of a diagnostic scanner.
USB WiFi Adapters can be used to receive a signal from a Wifi enabled device. These adapters are generally easy to setup and can connect your laptop or desktop computer directly to the scanner interface the same way your computer would connect to any other wireless network.
No comments have been posted yet.