Website Design Services by Interfuse
Modified on June 9, 2016 by Nick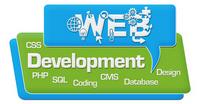 Request Web Design Service Now or Call (608) 831-3480
Having your website design done the right the first time does not need to be an impossible task. Careful planning and consideration when choosing the right web design company are the two most important factors to take into consideration. You need to choose a web designer that has the experience and know-how to build an attractive website that is able to capture new leads and customers on a daily basis.
Web Page Design
When having your website built you should ask yourself, is it more important to have a flashy website to impress your current customers or are you looking for a website tailored to bring in new business. For some businesses importance will be on design for others it will be on function and for most it may be a marriage of both. It is important to think about who will be visiting your website, what they expect to see and provide them with the information they need to know.
Let's look at it this way, the average visitor to your website may likely only spend two minutes browsing the pages of your website. Before having your website built by a web developer it is important to put yourself in their shoes of your visitors and pre-emptively provide them all of the details, information and content that they might be looking for in that short period of time. Content is king and ultimately providing your visitors with a life-line that links them to you from your website is important. This may be done by providing payment gateways directly on your website, phone numbers or contact forms.
Homepage Design
Your homepage is the most important and impactful page on your website. It is likely that 50-90% of your traffic will immediately access this page either by directly typing in your web address or by running a search for your company name on Google or Bing. It is important to use this page to give an over-view of your business and it's services as well as link to your most important pages that new and current clientele may be looking for. These pages could be products and service that you offer, where your business is located and methods to contact you.
Some businesses may elect to have flashy graphics on their homepage while others may elect to fill it with useful content. What is most important is likely that your visitors have access to click links from your homepage to the pages that have the information that they are looking for.
Small Business Website Design
Website design for small businesses does not have to be complicated. In fact, it is just the opposite. If you are not sure what you are looking for be sure to hire a professional website design agency that knows how to build sites that provide visitors with all of the information that they need and points of contact to you. Most small businesses elect to have 5-10 page sites built and would usually benefit from having a custom blog created with an additional 10 pages written for them.
The main pages on a small business website would include an About Us page, Products and Services, Location and Hours, a Contact Us page and possibly a Portfolio. The products and services section is sometimes important to elaborate on so this may create an additional 3-10 pages or more depending on your line of business.
A blog is important to attract new customers. I know what you're thinking, you don't need a blog. That may be true but for the majority of small businesses that are looking for new customers, we would suggest that a well composed blog could generate as much new business as the main structure of your website.
The purpose of the blog is to provide information and answer questions for people who are looking for more details about products or services in your industry. One would have to ask, why wouldn't you want a blog or some sort of knowledgebase? It works to provide merit to your expertise and build more awareness about your brand and service. Blog entries typically compose of 300 to 5,000 word articles and can take a considerable amount of time to research to complete.
SEO Website Design
One incredibly important factor to take into consideration when hiring a web designer or developer is their understanding of SEO. If you are looking to attract new business and they have little understanding of SEO it is best advised to steer clear of these designers. If SEO is not in their skill-set it is not likely that they will be able to attract enough business to make your project worth-while.
Why is this? The internet has changed and evolved over the years. Search Engines have changed their programming to give high ranks to pages that have followed a certain set of criteria and that list is about 100 items long, literally. Web page loading time, detailed html markup, meta-tags, website structure, navigational bread-crumbs, these are all major factors that search engines take into consideration when ranking your website. Hiring a designer, developer or programmer who is un-aware of these criteria will ignore them completely and provide you with a website that ranks poorly and is difficult to be found when running basic searches that you would hope to come up for.
So, vet website designers before hiring them. Do they understand SEO? If not, it may be in your best interest to steer clear.
Website Design Pricing
The cost to design your website can range wildly. Hiring the best doesn't have to mean the most expensive. In fact, the best designers and developers will likely be able to knock out websites for you in an affordable fashion. If you are setting up a 5-10 page website, they might be able to get the bulk of that work done in 1-2 days. However, something to consider with your website is the long term. You may wish to have work done over the course of 3-6 months.
Most designers and programmers cost an average of $35.00 to $100.00 per hour depending on their skill-set and how busy they are. Basic sites may lend a lower hourly rate while complicated sites that require in-depth programming knowledge such as a high-quality ecommerce store, Search Engine or Software as a Service websites may command a higher hourly rate.
When investing in your website, consider the long term. Get your foundation created and build from that. It's better to have a long term perspective in mind rather than wanting everything to be done and exactly how you want, yesterday. If you are running a small business, it would be reasonable to budget $500-$1,000 for a 5-10 page website and consider investing an additional $500-$2,500 in blog posts, keyword research and SEO after the first phase of your website is complete.
Ultimately, you are looking for results. If the website agency you hired is bringing in money for you, you've hit the jackpot. Let them know things are going well and consider investing more with that agency. Is it always that easy? Absolutely not, most web designers do not have a lot of experience running a businesses, many of them might be right out of high-school or college. What they do have experience is with website design and most likely unless they depend on CMS (content management systems), programming.
Depending on the size of your business you could spend hundreds of dollars, thousands of dollars or even hundreds of thousands of dollars per year developing and maintaining your website and building your online presence.
eCommerce Web Design
Designing ecommerce websites and online stores is a different ball of wax compared to building a website for a small service based business. Online stores require functions for you to add products, manage images and details for your products as well as ways for your customers to browse and search your products as well as functions to add items to their cart and make secure payments.
Most website designers will use a pre-built ecommerce shopping cart applications to help manage the functions of the store and layout of the web pages. The downside to this is that they have little control over the detailed html markup and because of this the website may suffer in terms of SEO.
Having an online store built for you can be a time consuming and expensive endeavor, however if you are dedicated to it's success, that makes all the difference. Before getting started ask yourself, is there a demand for the products you are offering? Can you carve a niche with these products? If you answered yes to both of these questions, you can succeed with an online store.
After your store is built and your products are online, ready to be added to peoples shopping carts, dedicating time and energy into creating a blog is a good idea. The blog entries should detail information that people are searching for and that is related to the products you sell. Having a well written blog developed will attract customers to your site and ultimately lead to them spending money on your products. There will be some initial time and money to invest up front but the blog will pay for itself over the long term.
Advertising on websites like Google Shopping, Shopping.com, ShopZilla and other shopping comparison websites can also work to generate an immediate sales however it is important to monitor this traffic to insure that you are making more money than you are investing.
Some small online store owners may also elect to list their items on eBay and Amazon. When you make sales through these portals you can include your website domain name on the packaging you are shipping out as well as other marketing materials to attract people to your web site. Discounts and coupon codes work particularly well.
Professional Website Design Services
If you've decided you need a professional to do your website design we welcome you to reach out to us. You can make contact by phone (608) 831-3480 or by email. Our lead designer has been publishing web pages since the stone-age (let's say Yahoo was just coming online) and we will be more than happy to work with you no matter what your needs. We can work with you locally, via Skype, over the phone, whatever is most convenient for you. If you haven't yet, take a moment to fill out our Service Request form so that we can make sure you get the best website possible.
Request Professional Website Design Services by Interfuse!
Other Services We Provide