IT Services by Interfuse
Modified on June 9, 2016 by Nick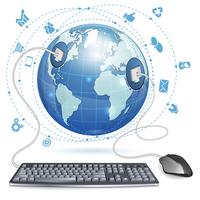 Interfuse offers a number of IT related services that can be of benefit to almost any business. We specialize in creating brands and driving customers to your door. From start to finish we can be your one stop shop for complete online promotion and business branding as well as furnishing your business with state of the art computer hardware that keep your employees free of problems or computer slow-downs that might hinder productivity.
For more information about our services please feel free to click the related links, otherwise just give us a call (608) 831-3480 and let us know your needs!
Our website design team are experts and can create an easy to use website that will create leads and sales for you on a consistent basis.
Our graphic design services can be utilized to create business cards, brochures, flyers, note pads, posters and other items that will enhance your companies' image.
Marketing your website is as important as having it built. There is no purpose in paying to have a website built if no-one sees it. Internet Marketing doesn't have to be complicated, we insure that your website experiences an increase in traffic and conversions.
Search Engine Optimization is an important part of online advertising and should be conducted during the process of creating your website and should also be an ongoing effort afterwards. We know the ins and outs of the search engines and know what they are looking for to have your website ranked above the others.
We offer logo design services that will help brand your company and create an identity for you.
We do computer consulting work for businesses and individuals alike. There are a lot of computer systems out there and getting the most bang for your buck is what we can help you do. Many businesses run expensive software or have bottle-necks in their networks that can create slow-downs. Being able to identify these points is just one thing we can do for you.
We offer a line of custom computers to meet needs including those for casual users, computers for the workplace and high-end gaming computers.
Computer break-downs happen. Sometimes hardware goes out or your machine may get infected with viruses or malware. We can help diagnose these problems and get your computer back and working better than before.
Knowing how to operate computers in this day in age can mean the difference of getting and keeping a job and affect the amount of money you make each year. With our computer training, we can help teach you skills that you can add to your resume and help you to make more money and live a better life.