Computer Training by Interfuse
Modified on June 9, 2016 by Nick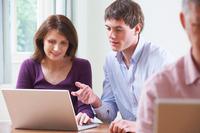 Want to learn how to better operate computers? Whatever it is you want to learn chances are we can help you. We offer one-on-one training that can teach you valuable skills that you can add to your resume or use just to make life more fun and enjoyable.
There are numerous things that you can learn and by offering your one-on-one training the learning curve will be the shortest as we will be able to quickly and directly answer any questions you have.
Somethings that you can learn with us are how to operate Windows, Microsoft Office, Graphic Design with Adobe Photoshop, Web Design and Programming and so much more.
Computer training can be conducted over the phone with screen sharing or in person. We suggest 1-2 hour sessions 1-2 times per week however can train at longer intervals. To learn more about our computer training service just give us a call at (608) 831-3480 and ask us about learning more about computers.
Let Us Teach You More About Computers or Call (608) 831-3480
Other Services We Provide