Selfies
Published on December 5, 2015 by Nick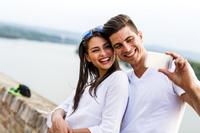 Selfies are a type of photo that people take with either a digital camera or more commonly a smartphone. Selfies have become popular over the past few years with the advent of popular social media sites such as Facebook. On websites like this, people are able to take a photo of themselves and quickly upload that photo to the social network for all of their friends and family to see.
With the increased popularity of selfies, certain tools such as selfie sticks and robots have been introduced into the market. By using a selfie stick or a robot you are able to take the pictures more easily by using paired Bluetooth connections to your iPhone or Android smartphone.
How to Take a Selfie
Selfies are easy to take, all you need to do is extend your arm out with the camera facing towards you and snap the photo. With some smartphones this may be easier than others. Some smartphones may make it difficult because you have to tap the screen in order to take the photo. By using a selfie stick, the stick can be paired via Bluetooth to your phone and the button to take the picture is directly in your hand while the stick extends the camera out and away from you so you can snap a picture of yourself.
A recent advent in taking selfies is the selfie robot. You can use these to setup stunning photos of yourself either indoors or outdoors and with a little effort, you can take photos of yourself like you had your own photographer at your side snapping the photos. Selfie robots are likely the best way to go if you want to take the best photos and be at a distance more than a few feet away from the camera.
Who Takes Selfies?
A lot of people take selfies, especially millennials who want to share pictures of themselves but do not have anyone around to take the pictures for them. These pictures are generally taken with an iPhone or a Samsung Galaxy smart phone.
What can you do with selfies?
You can share them via social media sites such as Facebook, send them via text message to your friends or family, send them in emails or even print them out and hang them on your wall.
Conclusion
If you take a lot of pictures of yourself or just wish you had more pictures of yourself, get yourself a selfie stick or better yet a selfie robot. A selfie stick will allow you to take more photos quickly however a selfie robot will set you up to take better pictures of yourself and you simply wouldn't be able to take with a stick or by extending your arm.
If there's anything we missed in this article such as techniques for taking selfies or places to post them write your comments or suggestions in the comments section so we can share the information with our readers.
Related Topics
No comments have been posted yet.