Visa Gift Cards
Modified on December 2, 2015 by Nick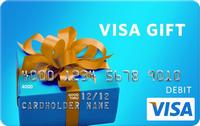 A Visa gift card is the perfect present for anyone. You can give the gift of a Visa gift card and the money can be literally spent anywhere, just like it would be spent with a credit card. The amount you put on the gift card can be just about any dollar amount between $10 and $500. If you need to give more you can easily purchase multiple gift cards.
There are a number of trustworthy places you can buy Visa Gift Cards online or you may inquire to purchase a gift card by using the find tool provided by Visa. The typical fee to activate a card is $3.95.
You can buy Visa Gift Cards online from any of these trusted vendors:
To check the balance on your gift card, call the toll-free customer service number on the back of the card.
DeniseH
70 Months Ago
Thank You for the chance to win any one of the Visa Gift Cards. I would probably spend some on groceries, clothes, manicure/pedicure or a massage!
Reply