ELM327 Bluetooth Diagnostics
41 Products Found
ELM327 Bluetooth Adapters
Modified on November 16, 2015 by Nick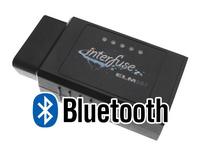 ELM327 Bluetooth Adapters are used to connect your vehicles computer (ECU) to a smartphone, tablet, laptop or desktop computer. The Bluetooth adapter transmits a signal from the ELM327 device to the receiving device over a wireless Bluetooth connect; meaning, the device you are receiving the data on needs to be Bluetooth enabled. Not all device are Bluetooth enabled by default but most smartphones and tablets will have the option to switch Bluetooth on and off. Laptops and computers are less likely to have Bluetooth and may require an external USB Bluetooth radio receiver to receive the signal.
Bluetooth Signal Reach
The ELM327 broadcasts a Bluetooth Signal that reaches 10 meters or approximately 32 feet. This signal can be reduced by walls or other interference. If you have a vehicle in a garage or outside and want to be able to diagnose it from in your house, workshop or place of business with a desktop computer, there is a possibility that the signal will be strong enough that you will be able to do this from at least a limited distance. Another option of increasing the range is to use an OBD-II extension cable.
Software
For the Bluetooth ELM327 there are countless numbers of Apps and Software Packages that are available. Because of this, we have a few recommendations so you can weed through that applications that are not so good and move on to one that will give you the functionality you are looking for. Android users can download a Free App called Torque, if you like the app you can upgrade to the Paid version. For Windows, again you both have a free and paid option, it is called ScanMaster-ELM. This is the best and most robust software package we have used and offers features that would be useful for professionals.
Compatibility
The ELM327 connects to most vehicles which are OBD-II compliant, this includes 99.9% of makes and models sold within the United States and are 1996 and older. To check if your vehicle is OBD-II compliant, look under the hood of your vehicle for a sticker that states that the vehicle you are attempting to connect to is OBD-II Compliant. It should be written in clearly for you.
The Bluetooth ELM327 can be paired to Bluetooth Enabled Windows XP, Vista, 7 and 8 Computers as well as Android Smartphones and Tablets. The Bluetooth model is not compatible for iPhone and iPad, these user's should seek a WiFi version of the ELM327.
Purchasing
There are a variety of ELM327 Bluetooth Adapters available on the market however most will provide you with the same functions and performance. Where you purchase these adapters can make a difference, there are many ELM327 Bluetooth Adapters on the market that may show up entirely defective or without instructions. This can lead to a very frustrating situation when you are dealing with a product that can be difficult (at first) to setup. So, you want to be sure you purchase your ELM327 Bluetooth device from a reliable source. The ELM327 Adapters we sell have a long standing track record of performing well and include step-by-step instructions.
Related Products
Thomas Griffith Jr
96 Months Ago
What an awesome tool!
Reply