Casino Gambling Club by Interfuse
Published on August 29, 2016 by Nick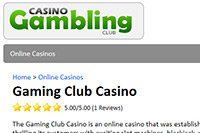 Casino Gambling Club is an online directory that organizes and reviews online and land based casinos. You can register completely free at Casino Gambling Club and review casinos that you play at. This is was designed and developed by Interfuse LLC. and will be the main project developed by Interfuse over the next 3-6 months. In the next year Casino Gambling Club will expand to have reviews for thousands of land based casinos all around the world as well as featuring specials offered by both online and offline casinos.
Screenshots of Online Casinos as well as in-depth reviews about making deposits, withdrawals and gameplay will be included with every casino that is added to the website. When you register and make a profile you can impact the community by offering your input as to whether the casinos are worth playing at or not and giving details about your experiences with them.
Every casino review includes in-depth information about playing including what types of slot machines and how many, tournaments that are hosted, the number of roulette, blackjack and poker tables as well as types of poker that they offer.
Casino Gambling Club is an international website that will be hosted in numerous languages and targeted to the visitors country. Whether you are a player in the United States, Canada, Australia, Europe or anywhere in-between, the Casino Gambling Club will have loads of information for you!
Visit the Casino Gambling Club: http://casinogambling.club/
No comments have been posted yet.