Business Liquidation Services by Madison Liquidators
Published on May 27, 2016 by Nick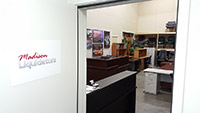 Madison Liquidators is a liquidation company that stocks both new and used furniture items as well as electronics which are liquidated from businesses and government institutions. Liquidation service is generally provided to the greater Madison Metro Area community however in some cases across state lines. It's liquidation services have helped business big and small as well as government institutions that require it's goods be removed from a location.
Primarily working as furniture liquidators, Madison Liquidators are able to vacate objects big and small from a premises quickly and store those goods in it's warehouse for resale. Some furniture item's you will find are desks, guest chairs, rolling office chairs, and tables. However, you never really know what you will find here as they also provide inventory closeout liquidation that can include almost anything including gardening tools, flashlights, cardboard boxes, electronics, computers and so much more.
If you're looking for a diamond in the rough, the Madison Liquidators warehouse might just be the place you need to go!
You can visit their warehouse during normal business hours at:
2224 Pleasant View Rd. Suite 10B
Middleton, WI 523562

Visit their website to see some of the items they currently have in stock and to learn more about them:
http://madisonliquidators.com/
Business and inventory liquidation services provided by Madison Liquidators are 5-Star. If you have office furniture items you need to get rid of or closeout inventory that you just can't seem to get rid of, you can contact Madison Liquidators by calling (608) 831-1012. If it sounds like it is in their better interest to view your goods, they will likely show up in 1-2 business days to make you an offer to remove the furniture or inventory from your location.
No comments have been posted yet.