Conference Room Tables by Madison Liquidators
Published on December 8, 2016 by Nick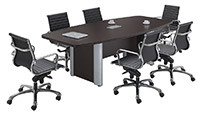 Madison Liquidators has a great selection of new and used conference tables both big and small. Their selection includes racetrack shaped tables, rectangular, square, round, boat shaped and other modular table tops that you can use to create T or U shaped meeting areas. Whatever the needs of your boardroom, let Madison Liquidators help you furnish it with matching storage credenzas and chairs to make an amazing impression on your customers, clients and employees.
If you are looking for a meeting table set with chairs, make Madison Liquidators your one stop shop! They have great prices are and able to discount shipping direct to your door on larger orders. A set of 8 chairs and a new 10 FT conference table doesn't have to break the bank and can offer you a great space to have meetings in.
You can buy conference tables in almost any color including White, Dark Walnut (close to black), Modern Walnut, Honey, Maple, Mahogany, Cherry and Espresso with an almost limitless number of color and leg combinations to make the space you need. Power outlets, data ports and other accessories are no problem and cabling can be discreetly hidden inside of hollowed legs of the conference tables.
If you are not sure what size or shape of conference table to buy, you can contact Madison Liquidators directly by calling (608) 831-1012 or viewing their size chart to calculate the needs of your space on your own.
If you are not sure exactly what you need for your meeting room, Madison Liquidators has numerous images of conference room sets that you can look at the help you make your decision.
Whatever your office furniture needs, visit madisonliquidators.com for both new and used furniture, desks, office chairs, filing cabinets and so much more!
No comments have been posted yet.